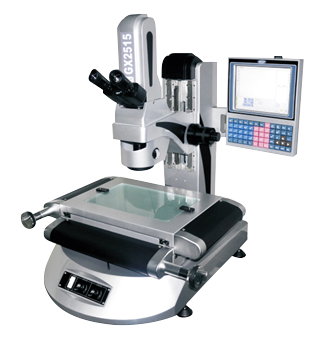 Tool Microscope basic properties
Model Number :GX2515 IIA
image resolution:640x480
Power Supply:Electronic 220V/110V 50HZ
Eye lens: 10X(Monocular,Binocular)
Lighting: 12V LED Ring light
work size x y z: 250x150x150mm
X.Y.Z resolution: 0.0005mm
xy axis Accuracy: < or =(3+L/200)UM
Objective magnification errors: =or<0.08%
optical lens: 1x(standard),2x(optional)
1. The horizontal measuring projector is an accurate and efficient measuring instrument for optical, mechanical and electrical integration.
2. General product structure and wide usage.
3. Can detect the contour size and the surface shape of the complex workpiece.
4. Such as model, punch parts, cam, screw, gear, forming milling cutter, etc.
5. Horizontal measuring projector is widely used in machinery, mold, instrument, electronics, spring,plastic,rubber,camera parts.car parts.pcb processed. light industry and other industries.
6. It is an 2d measurement instrument and also 3D measurement instrument .But also to the eyepiece gauge comparison measurement.measuring the height of screw,out dimeter, angle,or measure it after micro the outline of products.
7. measure the surface ,angle,size of the workpiece.also can be used as observation microscope. Using the relative measurement method to check the surface roughness of the workpiece and non-contact measurement precision for the purpose of processing.