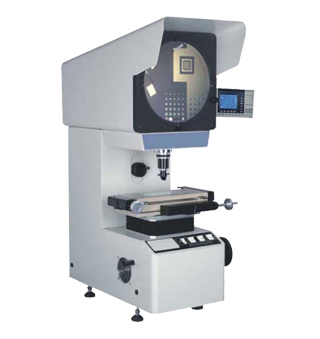 JT3015 Optical Vertical Profile Projector
Model Number :JT-3015
Work table: 340x152mm
work size x y z: 150x50x100mm
Instrument measurement precision (UM): < or =(3+L/200)
X.Z resolution: 0.0005mm
Projector screen size (mm): Dia312
Projection rotation range: 0-360
Rotation Angle resolution: 1 or 0.01
Objective lens: 10x .20x.50x.100x
Object field : Dia30 Dia15. Dia6 .Dia3
Focal distance of objective: 77. 44. 39. 25
Instrument illumination: 24V/150W halogen lamp
Power Supply: 110v/220v (AC),50/60HZ, 400W
Instrument size (L*W*H): 770X550X1120mm
1. The measuring projector is an accurate and efficient measuring instrument for optical,mechanical and electrical integration
2. General product structure and wide usage.
3. Can detect the contour size and the surface shape of the complex work piece.
4. Such as model, punch parts, cam, screw, gear, forming milling cutter, etc.
5. Horizontal measuring projector is widely used in machinery, mold, instrument, electronics, light industry and other industries.
6. It is an indispensable measurement instrument for measuring chamber and workshop.