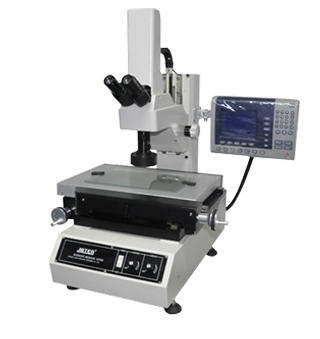 WMS-1860
Model Number: VMS-1860
Objective magnification: Visual system:1x (standard) 2x(Optional)
Eyepiece magnification: Visual system: 10X (Optional)
Total magnification: Visual system:10X~50X
Image resolution: 640*480
Table size: 354x228mm
Machine size : 530x530x795mm
Table travel: X=150 Y=100 Z=150 (Focusing)
X.Y.Z Digital resolution: 0.0005mm
X, Y coordinates of the indication error:(3+L/50)μm
Transmission lighting: Focusing hand wheel adjustable elastic, lifting range 60mm
Lighting: 24V/20W Tungsten halogen lamps
Reflective lighting: 12V LED Ring light and reflected illumination with laser point
VMS-1860 is a set of software tools, microscopes, optical, mechanical and electrical integration of high precision and high efficiency of microscopic measurement instruments .Novel appearance, simple and efficient .
VMS-1860 microscope with a variety of data measurement, micro zoom, display input and output data processing functions.
Ultra-fine digital color CCD camera device(Interface with C-MOUNT ).Can input and output measurements, data and access images. It can meet different user srequirements.
Quick Measuring dedicated graphics window can measure the operating software for automatic boundary. No need programming. Just a mouse click when you want to measure. Easy operation.
imaging systems :domestic licensing CCD or American TEO .
measurement software: Quick Measuring (Optional)